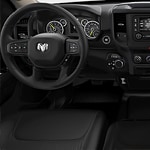 Everyone is always talking about the outside of a truck, but Ram 1500 owners know that it's what lies on the inside that counts most. The interior luxuries of this benevolent powerhouse are seriously a sight to behold.
One key focal point is the grandiose reconfigurable center console, which boasts an array of intuitive possibilities. With several high-speed charging ports for Type-C USB connections, this sleek hub can power five mobile devices at once. Business professionals in Sand Creek, WI will definitely appreciate the organized storage space, especially since files can be neatly kept alongside a 15-inch laptop.
Additionally, a regal 10-square-foot panoramic sunroof will deliver illuminating experiences on the road. This breathtaking installation ushers in majestic views during both day and night. Considering these extraordinary interior amenities, there has truly never been a finer time to be behind the wheel of a Ram 1500.