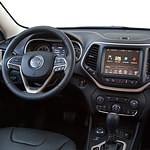 When you see a Jeep Cherokee on the road in Sand Creek, WI, there are a few exterior features that make it a bit more noticeable than other vehicles. The headlights have been redesigned so that they have an elegant slender appearance. However, the grille still has the iconic look that sets Jeeps apart from other SUVs on the road.
The rear liftgate is hands-free, making it easy to put your cargo in the back of the Cherokee without setting it on the ground. You'll discover that the Cherokee is slightly lifted off the ground. This makes driving over multiple types of terrain a bit easier instead of driving on solid surfaces, especially if you enjoy off-roading.
LED headlights and taillights offer brilliant light when you're driving at night and allow other drivers to easily see you on the road. You can talk to Gilberts of Sand Creek about wheel options as you can get 17-inch wheels that are aluminum or 18-inch wheels that are diamond cut among other selections.