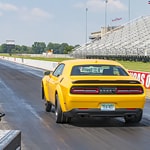 If you're looking for a muscle car that makes a statement, the Dodge Challenger is the way to go. Not only does it come with a sleek, high-tech interior that includes everything from leather seats to touchscreen interfaces, but its exterior is just as impressive.
Its cool vintage design is sure to turn heads. Its carbon aluminum wheels are ready to tear up the pavement. You can even customize its appearance with things like racing strips and engine block badges to make it truly your own. It has a classic look, but it allows modern drivers in Sand Creek, WI to roam around with the luxury and convenience of a contemporary car.
Are you interested in Dodge Challenger? You don't have to buy sight unseen. At Gilberts of Sand Creek, we're always happy to arrange test drives, so just reach out to one of our representatives and we'll have you behind the wheel in no time.