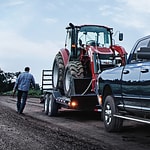 If you're seeking a new heavy-duty pickup that you can configure to your exact specifications, the popular Ram 2500 is right up your alley. You can count on the team here at Gilberts of Sand Creek to walk you through all your choices and give you the chance to test drive the Ram 2500 of your choice when you visit our convenient showroom in Sand Creek, WI.
Regardless of how you set up your Ram 2500, you're sure to be pleased with the available towing capacity and power generation abilities. An available diesel-fueled Cummins engine offers up to 350 horsepower and 800 pound-feet of torque while the baseline eight-cylinder Hemi creates more than 380 horsepower and 400 pound-feet of torque. A slightly more powerful Hemi engine offers more than 400 horsepower and just under 430 pound-feet of torque.
Your pick of reliable six-speed transmission styles will round out your Ram 2500's powerhouse.